Mobile Technology and Security Consultant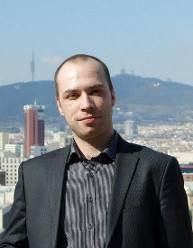 Hello World. I'm Stefan. A Tech guy interested in wide areas of computer science and a bit of experience in Security and Mobile Industry.
I have spent past 10 years as a consultant in couple of industry leading mobile companies, mostly at RoutoTelecom and later at CS Networks doing interesting things such as:
Get to know me better
Structuring the technology teams within organization can be very tricky. I am focusing on non-traditional approaches. developing myself as an Leader instead of Boss, with hands on work whenever possible. It helps me understand the problems, as well to have some fun.
Strength

Architecture Strategic Planning
Security Assessment
Real Time Programming
Nicotine Addiction
Coca-Cola addiction
Experience

5 - 7 years
10 - 11 years
5 - 7 years
10 - 15 years
10 - 15 years
Some of Companies
Some of the companies i spent years with and i found important.
Read if clients loved my work ?
I do take my profession as a passion and try to help whenever you ask. To keep myself on the right track, i ask for honest review after each project.
Bobby Logan

Manager at Petadic Corp
Stefan is an energetic, enthusiastic professional, who comes up with creative, innovative ways to service clients and business partners. He knows his stuff, and is committed to his clients' success. Stefan sees a problem and finds solutions.
Mel Hamilton

Web Designer at Nortomik
Stefan is easily able to juggle many tasks while keeping the priorities straight, with great level of finance, management and consulting experience, as well as leadership skill-set.
Rolland Dixon

Marketing Media at Mapcom Int
What Stefan is doing with telecommunications is not only impressive but necessary in today's global market, given the current state of our economy. To have a pro like Stefan as a resource is a great opportunity.
Peter Wells

Manager at ConMetacar Corp
Stefan Certic has the qualities of a successful leader - 1. Genuine interest in helping others; and, 2. Steady persistence toward achieving the goal. I'm proud to know Stefan and happy to recommend him to anyone.
Herman Meyer

Java Developer at Try4Us Corp
What I like most was his use of systems for getting things done efficiently and effectively. We spent significant time in the planning stages so our team knew exactly what to expect, what was going on at all times, and the expected outcome from all actions. His leadership inspired teamwork among my staff. He do all of this with a sense of fun.
Milica Djordjevic

Sales Manager at CS Networks
Stefan is multi-skilled and inspiring strategist with ability to focus on many tasks at once. Understands complex matters, Fast, Independent and reliable when stepping into unknown. Never refuses you when you ask for a help. Unique ability to solve most complex problems with unexpected simple solutions. Surprises never ending.
Things I can help with

"It Doesn't Matter How Many Resources You Have - If you don't know how to use them, they will never be enough."
Leave a message

Address :Flore Sends, 42, Belgrade,
Serbia, 11000